Summer Blessings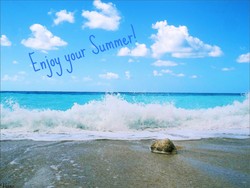 From the staff at VJM, we wish you a safe and relaxing summer holidays.
Our office reopens on Monday, August 22nd at 9 am.
All grade 7 students and other students new to VJM for the 2016-2017 school year are invited to attend an orientation session on Tuesday, August 30th from 9:30-10:30 am. New students will receive their timetable and be able to map out their first day.
The first day of school for all students is Thursday, September 1st at 8 am. Homeroom lists will be posted at the front of the school. Students will receive their timetables, textbooks and lockers in their homerooms on that day. Be sure to download the VJM app and visit this site.
Download September's Calendar here.
Honours- Awards night will be Thursday, September 15, 2016 at 7 pm

In order to qualify for Honours with Proficiency or Honours, a student must write the Final Exams. Please see our handbook for full details. To calculate honours, employ the following formula using the final marks for each of the following courses: LA (.17), Math (.17), Social Studies (.17), Science (.17), Phys. Ed (.17). Health (.075) Religion (.075)
Honours with Proficiency:- final average of 90% or better - no FINAL mark less than 70%
Honours- final average of 80% or better - no FINAL mark less than 60%
Congratulations and Good Luck Mr. Falk
We would like to take this opportunity to wish Mr. Falk good luck as he retires at the end of the 2015/16 school year. Mr. Falk provided 21 years of dedicated service to the students, staff and parents of Greater St. Albert Catholic Schools, the last twelve of these teaching mostly math, science and health at V.J. Maloney. We wish him good health and happiness in his new adventures.
VJM School Modernization
It's official and the process is now underway. Alberta Infrastructure has announced that Colliers International has been hired as Project Leaders for our school modernization. ONPA Architects has been named as the Prime Consultant. More details to come in the next couple of months!
It's Almost Time!
Grade 6s, soon you will be at VJM. Check back here regularly for updated information about the transition to Junior High.
Click here to download our information letter with key dates from now to September.
Click here to download our Grade 6 Welcome Bulletin
If you were unable to join us for our Transition Information Night. Please download the presentation here and be sure to call our office if you have any questions.
Registration Packages have been handed out to students at our feeder schools and are available here. You can also pick one up from our front office.
Grade 6 students had a world of fun at our annual Marauder Activity Challenge on April 14th after school. Thank you so much to the 18 students who organized and ran the event as well as the staff supervisors.
Grade 6s from our feeder schools also came to see a special matinee performance of ANNIE on May 17th. Thank you to Mrs. Koehler and the entire cast & crew for an amazing performance!!
CHECK OUT OUR APP!
There's a VJM app for ios and android devices. Just search "vjm" on the app store or click the links below to download. Enter your child's schedule and receive push notifications from the school. Have quick access to News, the school's Twitter feed, our website, PowerSchool and our School Handbook. Click here to download the introduction sheets.
click here for ios devices, (iPhone, iPad, etc.)
Click here for android devices, (Samsung, htc, etc.)
District Faith Theme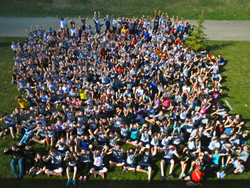 The greatest promise for all of our students this year will be a new faith theme. Along with the other schools in our district, we at VJM are celebrating, Faith in our Families, Supporting the Domestic Church . To this end, VJM will continue its commitment to our school masses, liturgies celebrations and retreats. We look forward to our continued relationship with St. Albert Parish as well as exploring ways to enhance faith discovery within the classroom and the home.
Division News