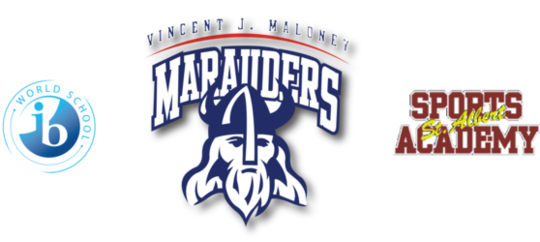 V.J.M. is encouraging all students to bring a robust device to enhance their learning starting the fall of 2015. Read more about our "My Learning - My Device" initiative by clicking on the link to the left.
Update June 24 - Our District has established a laptop purchase plan that would allow families to participate in a bulk order, accessing best pricing and a payment plan to spread the cost over 8 to 10 monthly installments. Learn more...
How Do I Register Over the Summer?
Our school office opens on August 20 at 9:00 am. During July and August you can also call our District Office Monday to Thursday from 9:00 a.m. to 3:00 p.m. to receive information about our school. The number for our District office is 780-459-7711. Registration forms and information are also available on our school website.
Congratulations to our Retirees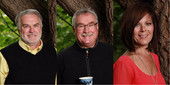 All of us at VJM would like to thank Mr. Joosten, Mr. Kazakoff and Mrs. MacDonald for their dedicated service to the students of VJM and around our school District.
Mr. Joosten has been at VJM since September of 2001. Mr. Joosten was passionate about teaching social studies and language arts. He was one of the driving forces behind bringing the I.B. program to VJM and was a leader in helping all teachers learn about and implement philosophies and teaching practices related to I.B.. Many fantastic classroom discussions and student writings about world events have occurred in Mr. Joosten's room. We also know he was a passionate Red Wings fan and flew their flag proudly.
Mr. Kazakoff has taught Phys. Ed., Outdoor Ed., health, language arts and a variety of other subjects at VJM, RS Fowler and for many years at GH Primeau in Morinville. However, we all know that social studies was the subject he loved most.  Mr. Kazakoff loved to discuss world events with his students.  Both of these gentleman stressed the importance of doing your best, doing things right and doing them in a way that was respectful to everyone.
Mrs. MacDonald worked as an Educational Assistant at VJM for many years. She will always be known for her gentle, kind ways and her skill in helping students be successful.
We will miss them all and thank them for their many years of service. We wish them good health and all the best in their retirement!
Awards & Honours Calculation
Awards for the 2014-2015 school year will be held Thursday, September 17th at 7 pm. In early September, an automated phone out and email will be sent notifying honours and honours with proficiency recipients.

Honours are calculated using the follow formula:
Honors with Proficiency: Final average of 90% or better in the following subjects. (LA (.17), Math (.17), Social Studies (.17), Science (.17), Phys. Ed (.17). Health (.075) Religion (.075) - no final course mark, (7 subjects) less than 70%
Honors: Final average of 80% or better in the following subjects. LA (.17), Math (.17), Social Studies (.17), Science(.17), Phys. Ed (.17). Health (.075) Religion (.075) - no course mark, (7 subjects) less than 60%
All other school-based award recipients will be notified directly by phone by our front office staff.

2014/15 Report Card Distribution
Report cards were distributed on Monday, June 29th. If you were unable to pick up the report card, you may collect it on August 20, 2015 when the school office opens at 9:00 am.
We Can't Wait!
Soon you will be joining our VJM community.
Thank you to those families who were able to attend our information session. Click here to view the presentation and be sure to contact the school if you have any questions.
Click here for our downloadable bulletin. It focuses on how junior high is different from elementary, explains our IB program and Marauder Excel Block, gives all the key dates and answers frequently asked questions that kids have.
To download the Grade 7 registration package, click here.
Thanks also to all the AWESOME VJM students who helped make our OPEN HOUSE  a HUGE success!! If you were unable to attend our Open House, give us a call and arrange a tour, our office reopens on August 20th.
Grade 7 and New Student Orientation
A reminder that all students in grade seven and any NEW students to VJM in grade eight and nine are welcome to attend our student orientation on Tuesday, August 25th from 9:30 am to 10:30 am at VJM. There will be a short program in the gymnasium and then students will have the opportunity to look at their timetable and find out where their classes will be prior to the start of the school year.
District Faith Theme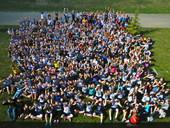 The greatest promise for all of our students this year will be a new faith theme. Along with the other schools in our district, we at VJM are, Shepherding Our Flock … Called to Love One Another . To this end, VJM will continue its proud legacy of focusing on community service and social justice projects, as well as exploring ways to enhance faith discovery within the classroom and celebrations that are held throughout the school year.