Marvelous
May is here and there is so much happening this month.
Click here to download May's Calendar
Click here to download our Year End Bulletin

• School Council takes place this Tuesday, May 3rd at 6:30 in the library, click here to download the agenda.
• Grade 8 Religion Retreats take place on the morning of May 4th for 8-1, 8-2 & 8-3 and the morning of May 5th for 8-4, 8-5 & 8-6.
• The Grade 9 Language Arts PAT Part A takes place on Tuesday, May 10. Click here for information about Provincial Achievement Tests.
• Our annual Track Meet is on Wednesday, May 11. click here for more information.
• The VJM Drama Department proudly presents ANNIE on Tuesday, May 17th at 7 pm in the school gymnasium. Tickets go on sale the week of May 9th.
• Part A of the grade 7 & 8 Language Arts final exam takes place on Tuesday, May 31st.

Be sure to call the school for additional information.
Help our Neighbors in Fort McMurray
If you would like to make a donation to support the families and people of Fort McMurray please click on the link below.
Students and staff will be collecting monetary donations in homeroom classes over the next couple of weeks.
Loving and compassionate God, today we pray in a special way for all of those affected by the devastating fires in Fort McMurray. We ask that you be with all those who have lost homes, possessions and livelihoods.  Comfort the evacuees who have been forced from their homes seeking safety and shelter.  We pray, too, for all those men and women who are working tirelessly to fight the fires, and for those who provide aid and support to the victims.   We ask this, in the name of Jesus Christ, our Lord.  Amen.
Grade 9 Farewell
Click here for information.
Tickets for the dance go on sale starting Tuesday, May 10th at lunch time and are on sale until the 19th.
We still require more parent supervisors for the dance. Please contact Mr. Lamer to help. Thank you.
Cyclebetes 2016
WAY TO GO VJM - OVER $46000 RAISED FOR JDRF
Thank you to the GoMAD Class for all of their hard work!
It's Almost Time!
Grade 6s, soon you will be at VJM. Check back here regularly for updated information about the transition to Junior High.
Click here to download our information letter with key dates from now to September.
Click here to download our Grade 6 Welcome Bulletin
If you were unable to join us for our Transition Information Night. Please download the presentation here and be sure to call our office if you have any questions.
Registration Packages have been handed out to students at our feeder schools and are available here. You can also pick one up from our front office.
Grade 6 students had a world of fun at our annual Marauder Activity Challenge on April 14th after school. Thank you so much to the 18 students who organized and ran the event as well as the staff supervisors.
Grade 6s from our feeder schools will be visiting VJM on the morning of May 17th to see a special matinee performance of ANNIE.
Badminton!
Doubles Prelims: Monday, May 2nd
Doubles Finals: Tuesday, May 3rd  
Grade 7 Girls:           E.S. Gish                                                          Grade 7 Boys: Lorne Akins   
Grade 8 Girls:           ESSMY                                                            Grade 8 Boys: R.S. Fowler
Grade 9 Girls:           S.G. Simpson                                                   Grade 9 Boys: V.J. Maloney
Download parent letter here.
Grade 10-12 Summer School Registration Now Open!
All core courses and some complimentary courses including Phys. Ed and Religion will be offered. Camp HeLa, a popular choice for many students entering high school will also be offered. Dates and a complete course listing now available. 
Visit our High School Summer Classes website to find out more about in-class, online and Camp HeLa options.
NEW PowerSchool Accounts
Your child received a letter containing your new parent access ID and parent access password along with instructions on setting up your new PowerSchool account(s). Parents/guardians will be able to link multiple junior high & high school children to one account. PowerSchool will also allow multi-user accounts. This means that parents/guardians can create their own accounts and link their children to them. Please obtain the letter from your child and use the instructions on the backside or here to create your new account(s). Please contact the school if you need any assistance.
CHECK OUT OUR APP!
There's a VJM app for ios and android devices. Just search "vjm" on the app store or click the links below to download. Enter your child's schedule and receive push notifications from the school. Have quick access to News, the school's Twitter feed, our website, PowerSchool and our School Handbook. Click here to download the introduction sheets.
click here for ios devices, (iPhone, iPad, etc.)
Click here for android devices, (Samsung, htc, etc.)
District Faith Theme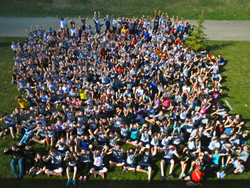 The greatest promise for all of our students this year will be a new faith theme. Along with the other schools in our district, we at VJM are celebrating, Faith in our Families, Supporting the Domestic Church . To this end, VJM will continue its commitment to our school masses, liturgies celebrations and retreats. We look forward to our continued relationship with St. Albert Parish as well as exploring ways to enhance faith discovery within the classroom and the home.
Division News