THANK YOU VJM FAMILIES!!
Thank you so much to Linda Boyd, our VJM School Council and all the parents who contributed to our Staff Appreciation Luncheon. Our staff feel so appreciated and lucky to be part of such an amazing community.
February
We are already half way through the school year, wow does time fly.
Click here to download the February Calendar.
Please be sure to check your email or our website for important information about a change in dates to Parent Teacher Interviews.
Join us for our Ash Wednesday Liturgy on Wednesday, February 10 at 10:15 am in the gym.
IMPORTANT NOTICE REGARDING PARKING
St. Albert Municipal Enforcement has requested that we send the following information out to parents & guardians regarding parking on the boulevard by the school:
Signage along the boulevard adjacent to the school parking lot indicates that there is no stopping at any time. The boulevard is designated as an emergency access route.It is our understanding that if a parent/guardian drops off or picks up their child along the boulevard in a quick and proficient manner with a duration of less than a minute, it may be deemed acceptable but any idling is subject to enforcement.
Municipal Enforcement with begin active patrols starting Monday, February 8th issuing warnings. These will be followed by the issuing citations later in the week and beyond. Please consider picking up your child up the hill from VJM behind Mission Hill Plaza. Just a reminder that you cannot enter our parking lot while the buses are there.
Administration will continue to work with the City of St. Albert and Municipal Enforcement to find a solution that meets the needs of parents and residents.
We appreciate your compliance and cooperation.
CHANGE to February Parent Teacher Interviews
Based on the feedback we received from parents/guardians regarding our trial of the online interview booking system, we have moved February's interview date. The February 3rd date has been moved to Monday, March 21st, meaning that we will have two interview nights back to back in March. This will allow more time slots in which families can meet with teachers. We believe the back to back nights are critical for the smooth functioning of the new online system. Our School Council has approved this move and an email will be sent out with  booking instructions in mid February.
It's Almost Time!
Grade 6s, soon you will be at VJM. Check back here regularly for updated information about the transition to Junior High.
Click here to download our information letter with key dates from now to September.
Join us at VJM on Thursday, February 18th at 7 pm for our Transition Information Night. Please be sure to call our office if you have any questions.
How Are We Doing? - We Need Your Feedback
Alberta Education - Accountability Surveys

As an annual check-up on the education system, the Accountability Pillar provides an opportunity for Alberta Education and school authorities to ensure that we are equipping students for success. The Accountability Pillar uses a set of 16 indicators consisting of surveys of students, parents and teachers on various aspects of quality; student outcomes such as dropout and high school completion rates; and provincial assessments of student learning.
From January to the end of February, Alberta Education will be conducting the annual Accountability Pillar Survey. In January, parents of students in grade 7 across the province will receive a survey from Alberta Education. In February, students in grades 7 and and all teachers will be completing their surveys online at school. All surveys are anonymous and ask questions about experiences with the school. In addition to English and French, the parent survey is available in Chinese, Punjabi, Arabic, Blackfoot, Cree, Korean, Spanish, Tagalog and Urdu.
Your participation in the survey helps provide important information on the quality of education your child is receiving, so we encourage you to return your survey promptly. Survey results will be available to school authorities in May 2016, and will be reported publicly as part of their 3-Year Education Plans and Annual Education Results Reports.
Basketball Schedule
PRACTICE TIMES FOR SENIOR and JUNIOR Basketball Week of Feb. 8-12:
Monday, Feb 8

Sr. Boys - 2:45 pm
Sr. Girls - 4:15 pm
Tuesday, Feb 9

Jr. Boys - 6:50 am
Jr. Girls - Lunch
Sr. Girls - 2:45 pm
Sr. Boys - 4:15 pm
Wednesday, Feb 10

Jr. Girls - Lunch
Thursday, Feb 11
Jr. Boys - 6:50 am
Jr. Girls - 2:45 pm
Friday, Feb 12
Jr. Boys - 1:45 pm
Practices are held on Monday and Wednesday from 4:00 – 5:00 pm with the season lasting until early to mid February. All practices will occur in the small gymnasium at SACHS. All students are welcome to join.
Click here to download the information/permission letter
Click here to download the U of A Paperweight Invitational permission letter
NEW PowerSchool Accounts
Your child received a letter containing your new parent access ID and parent access password along with instructions on setting up your new PowerSchool account(s). Parents/guardians will be able to link multiple junior high & high school children to one account. PowerSchool will also allow multi-user accounts. This means that parents/guardians can create their own accounts and link their children to them. Please obtain the letter from your child and use the instructions on the backside or here to create your new account(s). Please contact the school if you need any assistance.
CHECK OUT OUR APP!
There's a VJM app for ios and android devices. Just search "vjm" on the app store or click the links below to download. Enter your child's schedule and receive push notifications from the school. Have quick access to News, the school's Twitter feed, our website, PowerSchool and our School Handbook. Click here to download the introduction sheets.
click here for ios devices, (iPhone, iPad, etc.)
Click here for android devices, (Samsung, htc, etc.)
District Faith Theme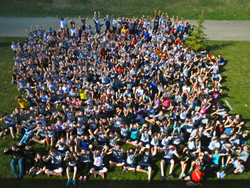 The greatest promise for all of our students this year will be a new faith theme. Along with the other schools in our district, we at VJM are celebrating, Faith in our Families, Supporting the Domestic Church . To this end, VJM will continue its commitment to our school masses, liturgies celebrations and retreats. We look forward to our continued relationship with St. Albert Parish as well as exploring ways to enhance faith discovery within the classroom and the home.