VJM REGISTRATION PACKAGES FOR 2015/2016 WILL BE DISTRIBUTED ON MARCH 9TH
CYCLEBETES 2015
Greetings from Vincent J. Maloney Catholic Junior High,
Our fourth annual Cyclebetes for juvenile diabetes research, (JDRF) takes place on April 23rd. Students have received information and will be getting registration forms on Friday. In the event that the information does not make it home, we have included a timeline of events and have attached some information for you.
In the very near future, we will add a Cyclebetes tab to our website so you can keep up with information, deadlines and requirements as we move towards the big day. If you have any questions, please check the website or give Mrs. Hobbs a call at 780-458-1113.
Feb 25-Mar 2 - Cyclebetes Information presented to students at grade level assemblies
Mar 6 - Registration packages available for pick up by team captains. Team captains are responsible for collecting a $15 registration fee from each team member as well as a signed consent/medical forms. Click here to download consent form, here to download medical form.  Cheques for the $15 registration fee are to be made payable to VJM.
Mar 24 - Registration packages due.  The event is limited to 50 teams so the sooner the package is in, the sooner a spot is secured.  Pledge forms will be distributed once registration packages are returned.
March 24 - April 14 - Raise money for the Juvenile Diabetes Research Foundation.  Each student is asked to raised a minimum of $125.  Cheques are to be made payable to JDRF.
April 14 - Pledge money is due
April 23 - Cyclebetes - 8 am - 6:30 pm
Thank you
We Can't Wait!
Soon you will be joining our VJM community.
Thank you to those families who were able to attend our information session. Click here to view the presentation and be sure to contact the school if you have any questions.
Registration packages will be delivered to all three feeder schools on March 9th. We ask that you return them to your child's school or to VJM by March 25th so we can begin programming for next year.
Our OPEN HOUSE takes place Thursday, March 12th at 7 pm at VJM. EVERYONE is welcome to attend!
Click here for our downloadable bulletin. It focuses on how junior high is different from elementary, explains our IB program and Marauder Excel Block, gives all the key dates and answers frequently asked questions that kids have.
Marvelous March
Spring is just around the corner and there is lots going on this month at VJM.
Click here to download the March calendar.
• Grade 6 students from Albert Lacombe, Bertha Kennedy and J.J. Nearing will be touring our option classes on March 11th.
• Join us for our Open House on Thursday, March 12th at 7 pm.
• Report cards go home on Friday, March 20th.
• The last interviews of the year take place on Wednesday, March 25th from 5-8 pm.
• Spring Break starts Friday, March 27th.
Celebrating 150 Years of Catholic Education
150 Anniversary Activities
Vincent J. Maloney Catholic Junior High School is proud to celebrate with stakeholders and schools across our District a legacy of 150 years of Catholic Education.  In addition to many regular activities we added some activities that celebrate 150 years of excellence in education.
School Wide Opening Prayer
150th Anniversary Selfie Contest
Telling our story and sharing facts and interesting information related to the history of our School District over announcements
Noon Hour Activities with a 150th flavor including a Trivia contest through the library
Ash Wednesday Ceremony – Traditional Twist
Guest Speaker – Chris Koch
150 Ways to be Kind Banner - Vanilla Ice Cream Treat
Basketball News
Congratulations to our Junior Girls and Boys who finished with 3rd place finishes at the SGS Season Ending League Tournament.
Best of luck to our Senior Girls and Boys who begin SAPEC League playoffs this week.
GO MARAUDERS!!
District Faith Theme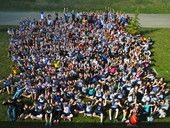 The greatest promise for all of our students this year will be a new faith theme. Along with the other schools in our district, we at VJM are, Shepherding Our Flock … Called to Love One Another . To this end, VJM will continue its proud legacy of focusing on community service and social justice projects, as well as exploring ways to enhance faith discovery within the classroom and celebrations that are held throughout the school year.
Summer School Information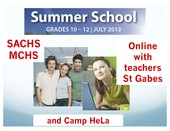 Click here to view the GSACRD Summer School presentation and visit www.summerschool.gsacrd.ab.ca to register online. Please note that
all registrations must be done online.