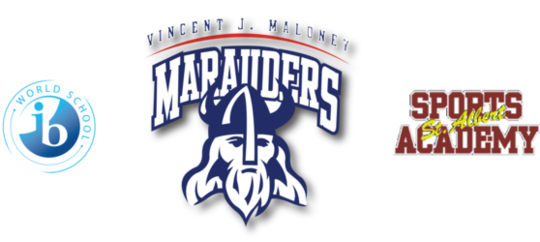 October
Fall has arrived and this month is filled with great things:
Click here for the October Bulletin
Click here for the October Calendar
Click here for the October Library Events Calendar
Thank you to all parents & guardians who were able join us for the School Council Annual General Meeting, elections and regular meeting. Our executive council for the 2015-2016 school year consist of Linda Boyd as Chair, Michelle Bonnici as Vice Chair and Tara Hergott as Secretary. If you would like to volunteer for any of our committees or serve as Volunteer Coordinator, please email Chair Linda Boyd at lboyd@seal-ex.ca
Please click here for the committee descriptions.
PowerSchool passwords have been sent out. Be sure to check your email or phone the school.
Click here to check out this month's Eating Wellness information.
PowerSchool is Open
PowerSchool is now open for students, parents & guardians to check marks and attendance. For the majority of VJM families that were here last year, your username and password will remain the same. For others, a username and password has been sent to your email. Please click here for instructions on setting up automatic email updates.

Just click the "PowerSchool Login" link or visit https://sis.gsacrd.ab.ca/public/home.html

If you have any questions, please call the front office.
95 Years of Service!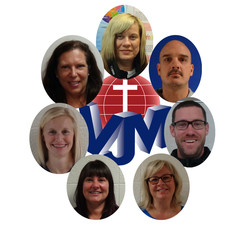 Congratulations to staff receiving Long Service Awards - We would like to take this opportunity to congratulate Mrs. French, Mrs. Russell, Mr. Loiselle, Mr. Rawcliffe, Mrs. Trottier, Mrs. Hill & Mrs. Wilson who will be receiving Long Service Awards on October 8th. We are proud of our dedicated, skilled staff and thank them for their service to our students and school. God bless them all!



CHECK OUT THE NEW APP!
There's a new VJM app for ios and android devices. Just search "vjm" on the app store or click the links below to download. Enter your child's schedule and receive push notifications from the school. Have quick access to News, the school's Twitter feed, our website, PowerSchool and our School Handbook. Click here to download the introduction sheets.
click here for ios devices, (iPhone, iPad, etc.)
Click here for android devices, (Samsung, htc, etc.)
Congratulations!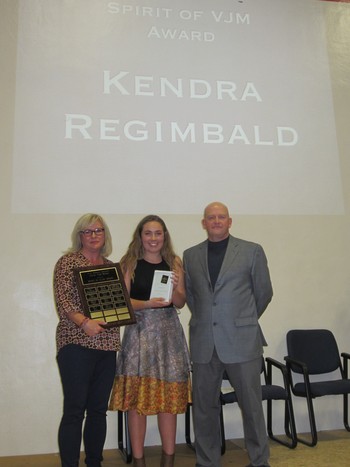 On September 17th, VJM honoured students for their achievements at our annual Awards Night. 304 students earned honours and honours with proficiency while 30 others received school based awards in the areas of community service, fine arts, athletics, religion, CTF and improvement.
WAY TO GO VJM!!
Volleyball Schedule
SENIORS
Game: Tuesday, October 6

Boys- @ ESSMY
Girls - vs ESSMY @ VJM
Practice: Wednesday, October 7

Girls- 2:45-4:15 SACHS Small Gym
Boys - 4:15-5:30 VJM Gym
Game: Thursday, October 8

Girls- @ MCHS
Boys - vs MCHS @ VJM
JUNIORS
Practice: Wednesday, October 7

Boys & Girls- 2:45-4:15 VJM Gym
Game: Wednesday, October 14

Boys & Girls vs Lorne Akins @ LA
Practice: Friday, October 16

Boys & Girls- 1:45-3:15 VJM Gym
Student Photos

Click here to view information & instructions regarding photo orders.
Retakes take place on the morning of October 15th
V.J.M. is encouraging all students to bring a robust device to enhance their learning starting the fall of 2015. Read more about our "My Learning - My Device" initiative by clicking on the link to the left.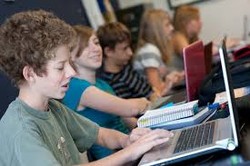 Update August 21/15 - Our District has established a laptop purchase plan that would allow families to participate in a bulk order, accessing best pricing and a payment plan to spread the cost over 8 to 10 monthly installments. The District will be placing a 2nd order early in September with an expected delivery in late September. For those families from VJM who ordered prior to August 14th, expected delivery is the first week of September to the school. Learn more...
District Faith Theme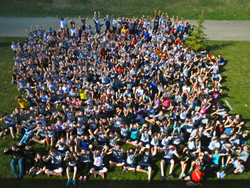 The greatest promise for all of our students this year will be a new faith theme. Along with the other schools in our district, we at VJM are celebrating, Faith in our Families, Supporting the Domestic Church . To this end, VJM will continue its commitment to our school masses, liturgies celebrations and retreats. We look forward to our continued relationship with St. Albert Parish as well as exploring ways to enhance faith discovery within the classroom and the home.