Click the link on the left to download registration packages
Awesome April
Spring is here and there is lots going on this month at VJM.
• Click here to download the April calendar.
• Grade 6s will be at VJM to take part in the Marauder Activity Challenge on Tuesday, April 21st.
• CYCLEBETES - Thursday, April 23rd!
• Badminton Singles runs the week of April 27th.
V.J.M. Career Fair
Our school is seeking adult volunteers who are employed in trades & professional fields to take part in a career fair. This event will empower students to make decisions for the rest of their K-12 educational experience and beyond that will set them on the path to achieving their career goals. Your role would be as someone employed in a particular field who can, through short presentations, share valuable insight with our students about how you reached your position. We would like you to refer to the value of school subjects in your work as appropriate. You will help students learn the realities of your job, including your responsibilities, and the impacts – good or otherwise – that your job has on your life.
If you are interested, please contact rmullan@gsacrd.ab.ca by April 20, 2015.
Career Fair
Friday, May 8, 2015
St. Albert Catholic High School Small Gymnasium
8:10 – 10:40 | 11:10 – 1:40
CYCLEBETES 2015
Greetings from Vincent J. Maloney Catholic Junior High,
Our fourth annual Cyclebetes for juvenile diabetes research, (JDRF) takes place on April 23rd.
Each student was asked to raised a minimum of $125 for the Juvenile Diabetes Research Foundation. Cheques are to be made payable to JDRF.
April 10 - Pledge money was due. Extensions have been granted by request so please be sure to get those donations in.
April 23 - Cyclebetes - 8 am - 6:30 pm
Click here for the parent information letter.
Click here for the pledge form.
If you have any questions, please give Mrs. Hobbs a call at 780-458-1113.
Thank you
We Can't Wait!
Soon you will be joining our VJM community.
Thank you to those families who were able to attend our information session. Click here to view the presentation and be sure to contact the school if you have any questions.
Click here for our downloadable bulletin. It focuses on how junior high is different from elementary, explains our IB program and Marauder Excel Block, gives all the key dates and answers frequently asked questions that kids have.
Registration packages have been delivered to all three feeder schools. We ask that you return them to your child's school or to VJM as soon as you can so we can begin programming for next year. If you do not attend a feeder school, download the Grade 7 registration package here.
Thanks also to all the AWESOME VJM students who helped make our OPEN HOUSE  a HUGE success!! If you were unable to attend our Open House, give us a call and arrange a tour.
Marauder Activity Challenge takes place Tuesday, April 21st. Grade 6 students get to come to VJM from 4-5:30 pm, take part in awesome activities like sports, team builders, ice-breakers and brain -teasers, meet new students and have some pizza. If you do not attend a feeder school, you are totally welcome to come, just download the form here, fill it out and either return it to the school or scan and send it to lpedersen@gsacrd.ab.ca
Badminton News
It's time for Badminton Season! Please see practice times below:
Monday, April 20th

Grade 9s- 2:40-4:00 pm --------- Grade 8s- 4:00-5:30 pm- SINGLES Players only
Tuesday, April 21st     
LUNCH - Grade 7 Girls
Wednesday, April 22nd    
LUNCH - Grade 7 Boys
GO MARAUDERS!!
District Faith Theme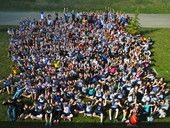 The greatest promise for all of our students this year will be a new faith theme. Along with the other schools in our district, we at VJM are, Shepherding Our Flock … Called to Love One Another . To this end, VJM will continue its proud legacy of focusing on community service and social justice projects, as well as exploring ways to enhance faith discovery within the classroom and celebrations that are held throughout the school year.
Summer School Information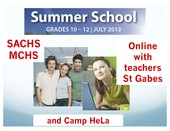 Click here to view the GSACRD Summer School presentation and visit www.summerschool.gsacrd.ab.ca to register online. Please note that
all registrations must be done online.