Marvelous
May is here and there is so much happening this month.
Click here to download May's Calendar
Click here to download our Year End Bulletin

• Congratulations to all our VJM athletes who qualified to represent our school at Districts on May 26th. Thank you to all of our SACHS volunteers for their hard work running the events.
• Part A of the grade 7 & 8 Language Arts final exam takes place on Tuesday, May 31st.

Be sure to call the school for additional information.
Grade 9 Farewell
Thank you to our parents volunteering to join staff in supervising the Grade 9 Farewell Dance on Thursday, June 2nd from 7-9:30 pm in our school gymnasium.
We will be holding an information session for volunteers on Monday, May 30th in the school cafeteria at 6:00 pm. The meeting will run approximately 20 minutes and will cover times, supervision areas, protocols and other important information. If you are unable to attend, we ask that you call Mr. Lamer at 780-458-1113.
Important Information Regarding Gr. 9 Farewell
 
We are just over one week from our Grade 9 Farewell that will occur on Thursday, June 2. Please read the information carefully. This will help us to have a great evening for the students.
 
Seating is very limited for nearly 170 grade nine students and their immediate families. Please be respectful of this.

Dress
The event is considered semi-formal. It has been the custom for boys to wear dress pants, shirt, tie and dress shoes. Girls usually wear a formal dress and shoes.

MASS at St. Albert Parish Church (No tickets needed)
The mass will begin at 5:00 pm at St. Albert Catholic Parish, (7 St. Vital Avenue.) Parents and students must be in their seats by 4:55 pm. Based upon some feedback from previous years and the fact that this year our District theme is Faith in the Family we have decided to try a different seating arrangement at the Church.  All grade nine students (other than those directly involved in the mass/program) will be seated with their families.
 
The Farewell Mass is a semi-formal/formal event. We ask that girls/ladies who wear spaghetti straps or strapless dresses wear a sweater or shawl during Mass. As the Archdioces states in the Sacramental Educational Initiative:
 
"Any sacramental celebration is a time of solemnity. Neatness, modesty and simplicity are the goals. Elaborate attire and attention directed solely to clothes detracts from the sacredness of the celebration. All concerned should ensure the child's comfort with the attire chosen as well as respecting varying cultural practices."
 
Please ensure that there are no beverages (coffee or soft drinks) brought to the Church and that all gum is removed before entering the Church.
 
During Communion we invite all who have completed the sacrament of Reconciliation and First Communion to come forward and receive the bread. If you have not completed the sacraments or are of a different faith background we encourage you to come forward for a blessing. Please approach a Eucharistic Minister with your hands crossed in front of your chest to indicate that you would like a blessing. We would also ask that you refrain from any talk during Communion as this is a solemn part of the Mass.
 
ICON Photography will be in the Church basement taking and printing 5x7 family pictures from 4-4:45 pm for $5 per print for any interested families.
 
FORMAL PROGRAM
Immediately following the mass there will be a Formal Program. The Formal Program involves speeches by staff, students and District Representatives.  There will be some music and a presentation of a certificate and gift to each student.
 
Each class will be called forward and the students will line up in alphabetical order down the right aisle. Parents who would like a picture are welcome to come forward just a little before the presentation of the certificate and gift to your child.
 
We expect that we should be completed the Mass and Formal Program by approximately 6:45 pm.
 
 
OPTIONAL FAREWELL DANCE
We have planned a Farewell Dance at VJM. This event is optional and students must have purchased tickets in advance. Door will be open at 7:15 pm and all students must be at the school no later than 7:30 pm.

Only those students and guests who had purchased tickets will be allowed into the Dance.
All pre-approved guests must have photo identification to enter our building.

Please note that there are NO backpacks permitted at the dance. Students must check their jackets and purses in room 144.
 
Refreshments, snacks, cake, photo opportunities and a DJ led dance will take place at VJM from 7:15-9:30 pm. Any student who decides to leave the Dance prior to 9:30 pm will not be permitted entry back into the Gym. Parents of students that are attending the Dance must arrange to have their child picked up at 9:30 pm.
 
We would like to thank the fifteen parents who have volunteered to help supervise the Dance. We would also like to thank Constable David Hynes of the St. Albert RCMP who will be on hand to assist with supervision during the Dance.
Help our Neighbors in Fort McMurray
Thanks for your generosity. Our students and
staff have raised $2500 for the
people of Fort McMurray.
PRAYER
Loving and compassionate God, today we pray in a special way for all of those affected by the devastating fires in Fort McMurray. We ask that you be with all those who have lost homes, possessions and livelihoods.  Comfort the evacuees who have been forced from their homes seeking safety and shelter.  We pray, too, for all those men and women who are working tirelessly to fight the fires, and for those who provide aid and support to the victims.   We ask this, in the name of Jesus Christ, our Lord.  Amen.
Cyclebetes 2016
WAY TO GO VJM - OVER $46000 RAISED FOR JDRF
Thank you to the GoMAD Class for all of their hard work!
It's Almost Time!
Grade 6s, soon you will be at VJM. Check back here regularly for updated information about the transition to Junior High.
Click here to download our information letter with key dates from now to September.
Click here to download our Grade 6 Welcome Bulletin
If you were unable to join us for our Transition Information Night. Please download the presentation here and be sure to call our office if you have any questions.
Registration Packages have been handed out to students at our feeder schools and are available here. You can also pick one up from our front office.
Grade 6 students had a world of fun at our annual Marauder Activity Challenge on April 14th after school. Thank you so much to the 18 students who organized and ran the event as well as the staff supervisors.
Grade 6s from our feeder schools also came to see a special matinee performance of ANNIE on May 17th. Thank you to Mrs. Koehler and the entire cast & crew for an amazing performance!!
Grade 10-12 Summer School Registration Now Open!
All core courses and some complimentary courses including Phys. Ed and Religion will be offered. Camp HeLa, a popular choice for many students entering high school will also be offered. Dates and a complete course listing now available. 
Visit our High School Summer Classes website to find out more about in-class, online and Camp HeLa options.
PowerSchool Accounts
Your child received a letter containing your new parent access ID and parent access password along with instructions on setting up your new PowerSchool account(s). Parents/guardians are able to link multiple GSACRD junior high & high school children to one account. PowerSchool will also allow multi-user accounts. This means that parents/guardians can create their own accounts and link their children to them. Please obtain the letter from your child and use the instructions on the backside or here to create your new account(s). Please contact the school if you need any assistance.
CHECK OUT OUR APP!
There's a VJM app for ios and android devices. Just search "vjm" on the app store or click the links below to download. Enter your child's schedule and receive push notifications from the school. Have quick access to News, the school's Twitter feed, our website, PowerSchool and our School Handbook. Click here to download the introduction sheets.
click here for ios devices, (iPhone, iPad, etc.)
Click here for android devices, (Samsung, htc, etc.)
District Faith Theme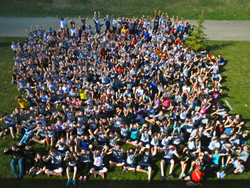 The greatest promise for all of our students this year will be a new faith theme. Along with the other schools in our district, we at VJM are celebrating, Faith in our Families, Supporting the Domestic Church . To this end, VJM will continue its commitment to our school masses, liturgies celebrations and retreats. We look forward to our continued relationship with St. Albert Parish as well as exploring ways to enhance faith discovery within the classroom and the home.
Division News