Parent-Teacher Interviews
Please join us this Thursday, October 23rd between 5-8 pm at the school. Interviews are on a first-come basis. If you have any questions, please contact our front office.
VJM's Food Bank Initiatives
VJMers stepped up to support the Food Truck Project on Tuesday. 448 students and staff purchased food resulting in a donation of $228 by Orbit, Drift & Lemon Grass Food trucks to the St. Albert Food Bank. A big thank you to Mrs. Montpetit for all her hard work to make this project a success and to GSACRD teacher & Orbit truck proprietor Mr. Swerda for answering the call.
Our Homeroom Food Drive was a HUGE success!! VJM students donated 1203 pounds of food to the St. Albert Food Bank. Congratulations to 8-6 for bringing in the most and winning the homeroom challenge.
October Information
Please check out the following information:

• October Bulletin- Click here
• Friend/Sibling Photo Day takes place Wednesday, October 22nd
District Faith Theme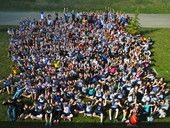 The greatest promise for all of our students this year will be a new faith theme. Along with the other schools in our district, we at VJM are, Shepherding Our Flock … Called to Love One Another . To this end, VJM will continue its proud legacy of focusing on community service and social justice projects, as well as exploring ways to enhance faith discovery within the classroom and celebrations that are held throughout the school year.
Marauder Excel Block
We are happy to announce that we will be running the Marauder Excel Block (Homework/Support Block) for the 2014/15 School Year.
Click Here for more information