Please note that registration packages for grade 6s have been sent to feeder schools and posted on our website. Grade 7s & 8s going into grades eight and nine will receive their packages on Monday, March 10 and will be available online the same day.
Welcome
Please check out the following information regarding transition to grade 7:
• February Information Letter- Click here
• Transition Session PowerPoint- Click here
• Grade 6 Bulletin- Click here
Open House
Thank you to everyone who made it out to our Open House. If you have any questions, please don't hesitate to contact the school. We ask that registration packages for grade 7 be turned in by March 27th.
The Season of Lent
Parent, staff and student volunteers cooked up a mountain of pancakes for Shrove Tuesday. VJM staff and students started the season of Lent on Ash Wednesday by receiving the blessing and imposition of ashes in the form of a cross on their foreheads. Thank you to all our volunteers including parents, students, staff and to Father Mike as we began this Lenten Season as a school community.
Hwk/Support Block Small Group Focus Areas
The following are some samples of teacher small group sessions for our Hwk/Support Block Trial Schedule for the week of March 3, 2014

Monday, March 3
Mr. Esposito - Math 7: Review of step by step use of formula's for Area of Circle, Parallelogram, Triangle.
Miss Pereira - Science 7: Unit 4 review for exam
Mr. Klak - Social 9: Small group review for Three Branches of Canadian Government
Mrs. Wilson - French 8 - reveiw for verb quiz, project completions
Mr. Loiselle - Math 8 - Unit 5 extra practice activities

Tuesday, March 4
Mrs. Urshel - Grade 8: Math Unit 4 surface area and volume review.
Mrs. Montpetit - Gr. 8 Social : Codex Project - extra completion time related to the light tables

Wednesday, March 5
Mr. Clayton - Science: Strategies for answering multiple choice questions
Mrs. Borodawka : Finding the key words in a question

Thursday, March 6
Mrs. Ketsa - Math 7: Adding and Subtracting Fractions with Manipulatives.
Mrs. Trottier - Grade 9: Essay writing with a focus on thesis statements
Mrs. Koeheler and Miss Haison - Social 7 extra help and extra help guitar 7 and 8
District Faith Theme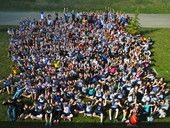 The greatest promise for all of our students this year will be a new faith theme. Along with the other schools in our district, we at VJM are, Casting Our Nets; Evangelizing God's People. To this end, VJM will continue its proud legacy of focusing on community service and social justice projects, as well as exploring ways to enhance faith discovery within the classroom and celebrations that are held throughout the school year.