Registration
Please note that registration packages for grade 7, 8 & 9 have been distributed and posted on our website. Thank you to those families that have handed in their registration packages for next year. If you have not returned your registration packages, we ask that you do so as soon as possible. If you have any questions, please contact our office. Thank you!
The Gift of Life
VJM's own Balbina Fernandez De la Cruz has been working for the last few years with her father, Mr. Victor Fernandez, on a humanitarian crusade. The pair have been collecting life-saving firefighting equipment and raising money for four neonatal incubators for developing countries in Central America. Please read more here.
Welcome
Please check out the following information regarding transition to grade 7:
• February Information Letter- Click here
• Transition Session PowerPoint- Click here
• Grade 6 Bulletin- Click here

District Faith Theme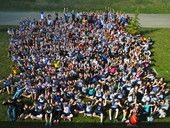 The greatest promise for all of our students this year will be a new faith theme. Along with the other schools in our district, we at VJM are, Casting Our Nets; Evangelizing God's People. To this end, VJM will continue its proud legacy of focusing on community service and social justice projects, as well as exploring ways to enhance faith discovery within the classroom and celebrations that are held throughout the school year.