Celebrating 150 Years of Catholic Education
150 Anniversary Activities
Vincent J. Maloney Catholic Junior High School is proud to celebrate with stakeholders and schools across our District a legacy of 150 years of Catholic Education.  In addition to many regular activities we will be adding some activities that celebrate 150 years of excellence in education.
Monday, Feb 2
School Wide Opening Prayer
Monday, Feb 2 to 28
150th Anniversary Selfie Contest
Our students will be encouraged to learn about the rich history of schools and landmarks in our District by taking part in a Photo Scavenger Hunt. Get some friends together to help. Prizes can be won. Entry forms and instructions will be available beginning the first week of February.
Daily Announcements
Mr. P. will be telling our story and giving us some facts and interesting information related to the history of our School District.
Noon Hour Activities
Students will be encouraged to take part in some activities with a 150 flavor including a Trivia contest through the library.
Wednesday, February 18
Ash Wednesday Ceremony – Traditional Twist
Monday, February 23
Guest Speaker – Chris Koch
35-year-old Chris Koch from Nanton, Alberta was born without arms or legs, but that hasn't stopped him from fulfilling his dream of becoming a farmer. Chris says, "I want to use my life to inspire and motivate others. I also want to give people a good laugh, too — if you can't laugh at life, what can you laugh at?" Chris' inspirational story is a testament to all those who despite great odds, reach their goals and dreams.

Short Month but Full of Acvtivities
The new semester starts on Monday, February 2nd. The  only change for students will be semester options. Students will begin their S2 option classes and will receive a new copy of their timetable.

Parent Teacher Interviews take place on Wednesday, February 4th from 5 to 8 pm. Interviews are on a first-come-first-serve basis.

Students will be treated to a FREE pancake breakfast on Shrove Tuesday and Father Mike will be here to lead Ash Wednesday with staff and students.
Click here for February's calendar
We Can't Wait!
Soon you will be joining our VJM community.
We will be holding an information session for parents & guardians from our feeder schools, (AL, BK & JJN) as well as ANYONE curious about the transition from elementary to junior high. It takes place on Tuesday, February 24th from 7-8 pm at J.J. Nearing Catholic Elementary School.
Our OPEN HOUSE takes place Thursday, March 12th at 7 pm at VJM. EVERYONE is welcome to attend!
Check back soon for our downloadable bulletin.
Basketball News
Schedule for February 2 - 4

Monday, February 2

Practice Junior Boys@ 7:00 am(doors open at 6:50 am)

Practice Senior Girls @3:00 pm
Practice Senior Boys @4:30 pm
Practice Junior Girls @ 4:30 pm SMALL GYM SACHS
Tuesday, February 3

Game 3:45 pm Jr. Boys at G.H. Primeau Morinville
Game 3:45 pm Jr. Girls G.H. Primeau Morinville
Game 4:00 pm Sr. Girls at MCHS Morinville
Game 5:30 pm Sr. Boys at MCHS Morinville
Wednesday, February 4
Practice Junior Boys@ 7:00 am(doors open at 6:50 am)

District Faith Theme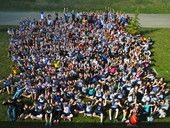 The greatest promise for all of our students this year will be a new faith theme. Along with the other schools in our district, we at VJM are, Shepherding Our Flock … Called to Love One Another . To this end, VJM will continue its proud legacy of focusing on community service and social justice projects, as well as exploring ways to enhance faith discovery within the classroom and celebrations that are held throughout the school year.