Merry Christmas from the Staff and Students at V.J.M.
In the region there were shepherds living in the fields, keeping watch over the flocks by night.  Then the angel of the Lord stood before them, and the glory of the Lord shone around them, and they were terrified, but the angel said to them, " Do not be afraid; for see - I am bringing you good news of great joy for all the people: to you is born this day in the city of David a Savior, who is the Messiah, the Lord."  
Luke 2: 8 - 11
Christmas Theme Week
Check out the AWESOME activities taking place the last week before the holidays:
December 15-19
Monday-Gingerbread House
(Cost $5.00 in Room 126)
Tuesday-Christmas Karaoke (Room 126)
Wednesday-Christmas Movie (Room 121)
Thursday- Christmas Movie (Room 121)
 and Ugly Sweater Contest (Prizes)!
Friday- Dance in the afternoon
Also: Have your picture taken with Santa- Wednesday through Friday, $3 per print with ALL money going to Catholic Social Services!
December Information
The season of Advent is a time of great anticipation and joy. We have great things going on this month.
For our December Calendar, click here
For information on our Reconciliation day, click here
For information on the last day of school, including our Advent Mass, Grade 9 Dance Competition and afternoon dance, click here
Support Catholic Social Services- Students can get their photo taken with Santa next week and receive a 4x6 print for $3
Basketball News
Basketball Practice Schedule Week of January 5-9
Monday, January 5
            2:55 – 4:20 pm – Sr. Girls
            4:20 – 5:20 pm – Jr. Girls
Tuesday, January 6
            2:55 – 4:20 pm – Sr. Boys
            4:20 – 5:20 pm – Jr. Girls
Wednesday, January 7
            2:55 – 4:20 pm – Sr. Girls
            4:20 – 5:20 pm – Jr. Boys
Thursday, January 8
            2:55 – 4:20 pm – Sr. Boys
            4:20 – 5:20 pm – Jr. Boys
SENIOR Basketball - Congratulations to the students that have been selected to be a member of the Senior Boys and Girls basketball teams! V.J.M. hosted their 6th annual Marauder Madness Basketball Tournament on December 11-13. Our girls were the tournament champions and our boys placed third. A great start to the 2014/15 senior basketball season. GO MARAUDERS!
District Faith Theme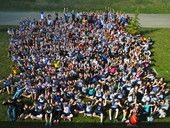 The greatest promise for all of our students this year will be a new faith theme. Along with the other schools in our district, we at VJM are, Shepherding Our Flock … Called to Love One Another . To this end, VJM will continue its proud legacy of focusing on community service and social justice projects, as well as exploring ways to enhance faith discovery within the classroom and celebrations that are held throughout the school year.
Marauder Excel Block
We are happy to announce that we will be running the Marauder Excel Block (Homework/Support Block) for the 2014/15 School Year.
Click Here for more information