Welcome Back!
We hope you had an awesome summer! Our office is now open to serve you. School starts for all students on Tuesday, September 2nd. Homeroom lists will be posted outside the front doors and outside the gymnasium. Students are to report to their homeroom by 8 am where they will receive their schedule, locker & lock and agenda.
Marauder Excel Block
We are happy to announce that we will be running the Marauder Excel Block (Homework/Support Block) for the 2014/15 School Year.
Click Here for more information
September Information
Please check out the following information:

• September Bulletin- Click here
• Bell Schedule- Click here
• 2014-2105 Calendar- Click here
Please note that PowerSchool passwords will be updated and sent out in early October. Access to students and families will be available at that time.
District Faith Theme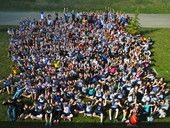 The greatest promise for all of our students this year will be a new faith theme. Along with the other schools in our district, we at VJM are, Shepherding Our Flock … Called to Love One Another . To this end, VJM will continue its proud legacy of focusing on community service and social justice projects, as well as exploring ways to enhance faith discovery within the classroom and celebrations that are held throughout the school year.