Important Information this Month
Report Cards- Report card distribution takes place  on Friday, November 21st at the end of the day. For grade 7 students from our three feeder schools, there will be a copy of their grade 6 Provincial Achievement Exam results. For most grade 7s, there will also be a Parent Report from the CAT 4 diagnostic they wrote in late September. All VJM students will receive a copy of the outcomes covered in the first term by their four core classes.
Interviews- Interviews will take place on Thursday, November 27th from 5 to 8 pm at the school. Some teachers will be in their classes while others will be in the gymnasium in an arena-style format. Interviews take place on a first-come basis.
Parent CAT 4 Letter- Click here
PAT Information Sheet- Click here
November Calendar- Click here
Senior Basketball Tryouts
The basketball season is finally here!
Senior basketball tryouts will continue through November 27th.
The girls will have tryouts on the following dates from 3:00-4:30:
Monday November 24th
Wednesday November 26th
 The boys will have tryouts on the following dates from 3:00-4:30:
Friday November 21st **2:00-3:30**
Tuesday November 25th
Thursday November 27th
All 3 grade levels are welcome and encouraged to tryout for the senior teams. Junior basketball tryouts will take place after the senior teams have been selected.
District Faith Theme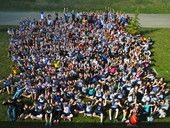 The greatest promise for all of our students this year will be a new faith theme. Along with the other schools in our district, we at VJM are, Shepherding Our Flock … Called to Love One Another . To this end, VJM will continue its proud legacy of focusing on community service and social justice projects, as well as exploring ways to enhance faith discovery within the classroom and celebrations that are held throughout the school year.
Marauder Excel Block
We are happy to announce that we will be running the Marauder Excel Block (Homework/Support Block) for the 2014/15 School Year.
Click Here for more information