Click the link on the left to download registration packages
Marvelous MAY
Where has the time gone? Not to worry, there are still many great things happening!
Click here to download the May calendar
Click here to download our year-end bulletin
Be sure to check out the rest of our web page and the bulletin for information regarding:
• Grade 9 LA PAT Pt. 1 - This exam was written on Monday, May 11.
• VJM's presentation of The Wizard of Oz
VJM Presents
On Thursday, May 21st and Friday , May 22nd, the VJM Drama department will present this year's production, THE WIZARD OF OZ. The play will run a Thursday dress rehearsal matinee at 1 pm for grades 5 & 6 from JJN, (free admission) and VJM parents. There will be a regular Thursday night performance at 7 pm for all and a Friday morning performance for grades 5 & 6 from AL & BK, (free admission) and VJM parents. Ticket sales start the week of May 11th and are $8 per person for each of the three performances. Call our office for more information.
Grade 9 Farewell
Dance tickets are now on sale until Friday, May 22nd.

Grade 9 Farewell takes place on Thursday, June 4th. Please take note of the following information regarding the event:

On June 3rd, grade 9 students will travel to St. Albert Catholic Parish in block 5 to take part in rehearsal for the event. ICON Photography will be be taking a photo of the entire grade 9 class in front of the Church following rehearsal. Students will have the opportunity to order a class print from ICON. Ordering information will be made available closer to the date.

On June 4th, Farewell Mass will begin at 5 pm at St. Albert Catholic Parish, (7 St. Vital Avenue.) ICON Photography will be in the Church basement taking and printing 5x7 family pictures from 4-4:45 pm for $5 per print for any interested families. The Mass and Farewell Ceremony will run approximately 1 hour and 45 minutes. Seating is on a first- come basis for family and friends. All grade 9's will have reserved seating in their homerooms. We ask that girls who wear spaghetti straps or strapless dresses please wear a sweater or shawl during Mass.

Following the Mass, there will be a grade 9 dance held at VJM. Doors will open at 7 pm and no one will be admitted after 7:30 pm. Students are allowed one junior high guest each. Guest names with school must be submitted by May 22nd and guests must bring picture ID to the dance. Tickets for ALL students are $10. Students must check all bags, purses, backpacks, etc. and will be able to pick them up when they leave. If a student leaves the building, they cannot be admitted back into the dance. Parents are expected to pick students up at the end of the dance at 9:30 pm.

Please note that tickets ARE NOT available at the door & if there are not enough tickets sold, the dance will be cancelled.

Thank you so much to all the parent volunteers who are helping to supervise the dance. If you have any questions, please contact our administration.
CYCLEBETES 2015

WAY TO GO VJM!!
Students raised  $56 390 dollars for juvenile diabetes research through JDRF. Thank you to Mrs. Hobbs, our Go M.A.D. Leadership class for organizing every aspect of the event as well as our sponsors and staff, parent & community volunteers. Together we Make A Difference!
We Can't Wait!
Soon you will be joining our VJM community.
Thank you to those families who were able to attend our information session. Click here to view the presentation and be sure to contact the school if you have any questions.
Click here for our downloadable bulletin. It focuses on how junior high is different from elementary, explains our IB program and Marauder Excel Block, gives all the key dates and answers frequently asked questions that kids have.
Registration packages have been delivered to all three feeder schools. We ask that you return them to your child's school or to VJM as soon as you can so we can begin programming for next year. If you do not attend a feeder school, download the Grade 7 registration package here.
Thanks also to all the AWESOME VJM students who helped make our OPEN HOUSE  a HUGE success!! If you were unable to attend our Open House, give us a call and arrange a tour.
District Faith Theme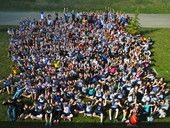 The greatest promise for all of our students this year will be a new faith theme. Along with the other schools in our district, we at VJM are, Shepherding Our Flock … Called to Love One Another . To this end, VJM will continue its proud legacy of focusing on community service and social justice projects, as well as exploring ways to enhance faith discovery within the classroom and celebrations that are held throughout the school year.
Summer School Information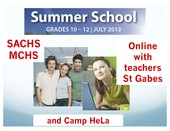 Click here to view the GSACRD Summer School presentation and visit www.summerschool.gsacrd.ab.ca to register online. Please note that
all registrations must be done online.