District Faith Theme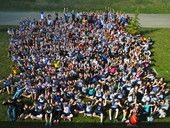 The greatest promise for all of our students this year will be a new faith theme. Along with the other schools in our district, we at VJM are, Shepherding Our Flock … Called to Love One Another . To this end, VJM will continue its proud legacy of focusing on community service and social justice projects, as well as exploring ways to enhance faith discovery within the classroom and celebrations that are held throughout the school year.
Marauder Excel Block
We are happy to announce that we will be running the Marauder Excel Block (Homework/Support Block) for the 2014/15 School Year.
Click Here for more information